In Event of Moon Disaster is an Emmy-award winning immersive art project exploring the influence and pervasiveness of misinformation and deepfake technologies in our contemporary society. 
It presents an alternative history of the moon landing, one that could well have happened. There were many risks during the Apollo 11 mission, most notably landing the lunar module on the moon and taking off again. President Nixon had a contingency speech, written by William Safire, called "In Event of Moon Disaster." Luckily, it never needed to be delivered. 
The work
In Event of Moon Disaster is a seven-minute film, immersive website and installation which rewrites the story of the Apollo 11 mission to suppose the astronauts never made it back. To construct the story a variety of techniques of misinformation were used – from  simple deceptive editing to more complex deepfakes technologies – "from cheap fakes to deepfakes" as Joan Donovan, an academic at Harvard who specialises in misinformation, puts it. 
Deep Learning
To recreate the contingency speech, the team used deep learning techniques and the contributions of a voice actor to build the voice of Richard Nixon, producing a synthetic speech working with the Ukranian-based company Respeecher. They also worked with Israeli company Canny AI to use video dialogue replacement techniques to study and replicate the movement of Nixon's mouth and lips, making it look as though he is reading this very speech from the Oval Office. The resulting video is highly believable, highlighting the possibilities of deepfake technology today.
Objective
The goal of the project is to  spark critical awareness among the public. We want them to be alert to what is possible with today's technology, to explore their own susceptibility, and to be ready to question what they see and hear as we enter a future fraught with challenges over the question of truth. 
Installation
In Event of Moon Disaster premiered at IDFA DocLab on November 22, 2019 in the form of a physical installation designed to re-create a 1960s era American living room. It won the IDFA DocLab Competition for Digital Storytelling – Special Jury Award for Creative Technology (2019) and  Mozilla Creative Media Award (2019)
It has been selected to be shown at Museum of Moving Image, the Museum of Modern Art, Ars Electronica, CPH: DOX (Copenhagen, Denmark), iDocs (Bristol, UK), Tribeca Film Festival (New York, USA), Future of Storytelling (New York, USA), Cannes VR (Cannes, France)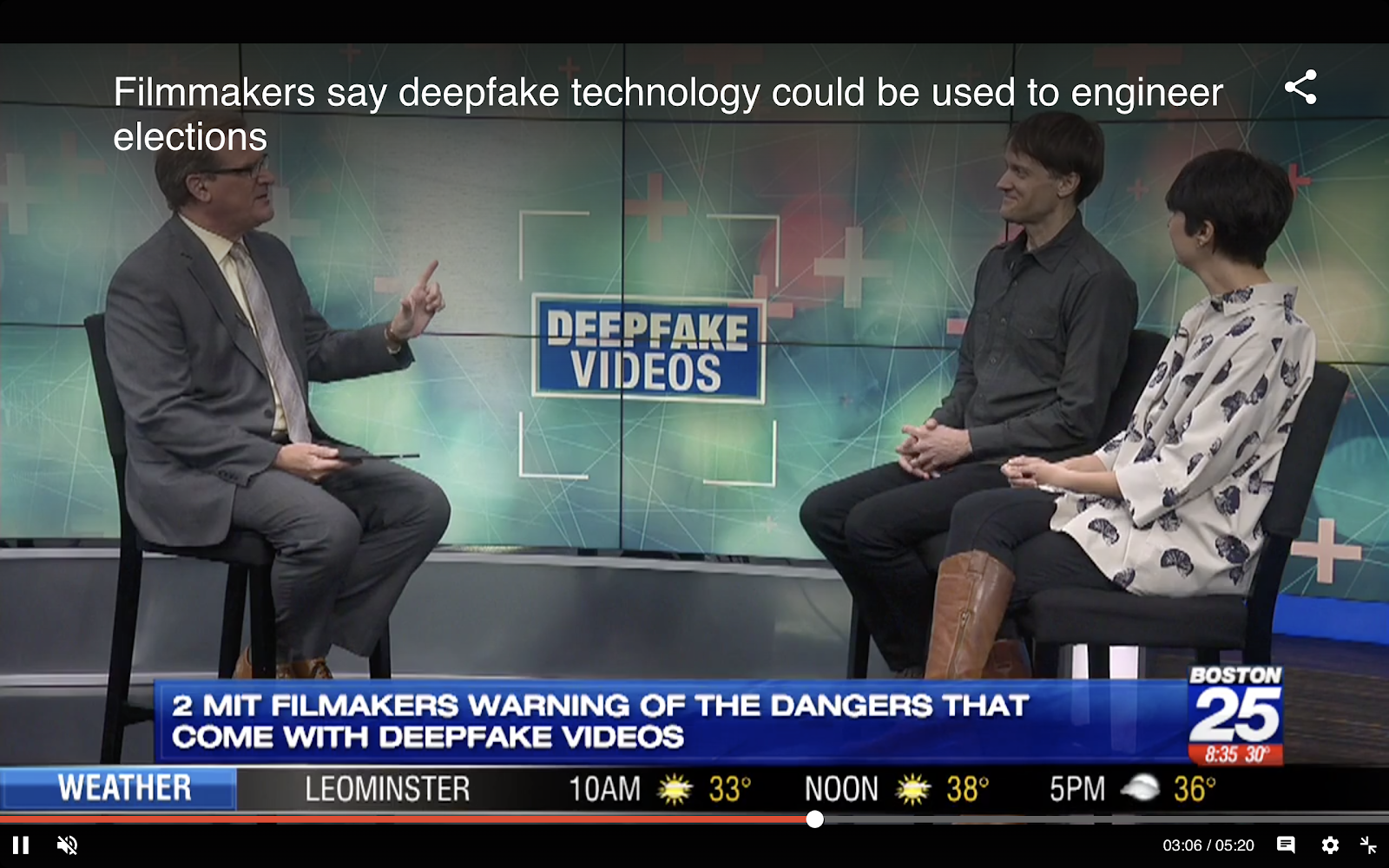 Selected Press Coverage
Boston 25, Boston Globe , Newsweek, CBC Radio One Online, WBUR's Morning Edition, CBS This Morning, Gizmodo, Vice EuroNews, Medium, Universe Today, BoingBoing, Digg, InsideHook, Futurism